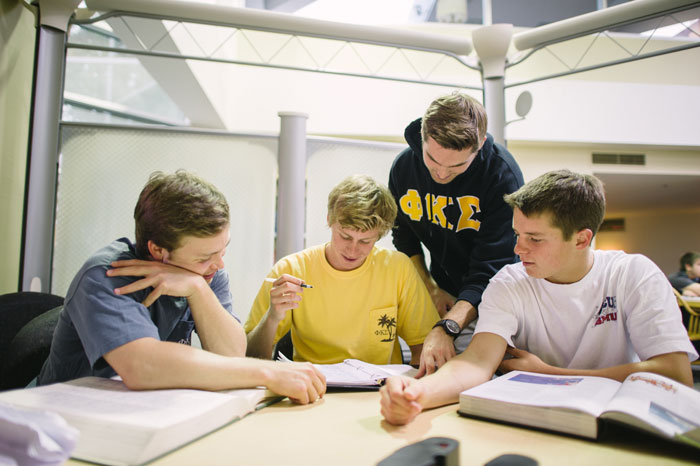 Academics
---
The following was taken from the Five Objectives of an Active Member:
The first and foremost ideal of Phi Kappa Sigma is the pursuit of academic knowledge. The primary goal of each brother is the attainment of a college education. Each member has an obligation to continually maintain a sound academic record. This is an obligation that he owes to his family, his brothers, the Fraternity, and himself. Since its conception, Phi Kappa Sigma has emphasized scholarship and academic excellence. Initiation into, and participation in the Fraternity is dependent upon maintaining a respectful scholastic average. Therefore, throughout your college career, the pursuit of academic endeavors should be continued diligently.
---
Becoming a member of the Phi Kappa Sigma International Fraternity means you take your academics seriously. It means you strive to be the best and that you work hard, so you can play hard.
We have a rich history in valuing our education, academics, scholastics, and our institutions. The members in the early years of the organization felt such a strong bond that Brother James William Barrow founded the only college to be named in honor of a fraternal organization. The Phi Kappa Sigma Male College was opened on February 7, 1859 located at Monticello, Arkansas. On the twenty-first of February, in the same year, the Legislature of Arkansas chartered this institution, making it the first institution of higher learning in Arkansas.
In the present day on college campuses across America, fraternity men are taking advantage of additional resources that give them a leg-up on their non-Greek colleagues. Resources like scheduled study hours, tutoring and mentoring opportunities from older members, and access to additional programming are only some of the ways Greeks are taking advantage of their organizations.
Phi Kappa Sigma is no different. The emphasis we place on our members' academic success instills, among other things, an indisputable determination that ensures that members are leaders in the classroom, on campus, and in their communities. Many chapters foster the pursuit of excellence in academics with local awards and a focus is put on this emphasis by the awarding of four different awards and recognition on the International level. The awards are listed below, as well as details on each award listed on our AWARDS page.
Hutchinson Key Scholarship Award
The Dr. Ghery D. Pettit Scholarship Award
The J. Orvis Keller Scholarship Award
The Arthur M. Jens Scholarship Award
We recognize that not all schools are the same, so when you visit the Phi Kappa Sigma chapter on your campus, be sure to ask about their academic plans. Many of our chapters have a tailored approach to success on their campus. By letting chapters have the autonomy to set their own academic goals and form their own plans, our Educational Consultants make sure our members have every opportunity to be successful at their schools.