BENEFITS OF GREEK LIFE
---
You've been admitted to college. Now what?
At some point you will want to put some thought into what you're going to major in and how you're going to position yourself for life after college, but if you're considering joining a Greek organization, the latter is more or less taken care of.
As a fraternity man, you will be among the nation's best prepared and most likely to succeed during and after college. Not only will the chances that you graduate improve but statistically so will your grades. You will be more likely to participate in and excel at extracurricular activities and student leadership, and you will form lasting relationships with the best and brightest men and women on your campus.
Here's why Greeks are better at their jobs, via Gallup1:
Fraternity and sorority members' engagement advantage indicates that they are more likely to be intellectually and emotionally connected to their organizations and enthusiastic about their work. Overall, 43% of fraternity and sorority members who are employed full time for an employer are engaged in the workplace, compared with 38% of all other college graduates. Importantly, these differences are statistically significant after controlling for key demographic variables, including gender, race, ethnicity, and socioeconomic status.
The survey also found that fraternity and sorority members are more likely to be thriving in all of Gallup's five elements of well-being — purpose, social, financial, community, and physical. According to Gallup:
Fraternity and sorority members are more likely than their non-Greek counterparts to find fulfillment in daily work and interactions, to have strong social relationships and access to the resources people need, to feel financially secure, to be physically healthy, and to take part in a true community.
Here's a more detailed breakdown of how fraternities and sororities give students a better well-being, via Gallup: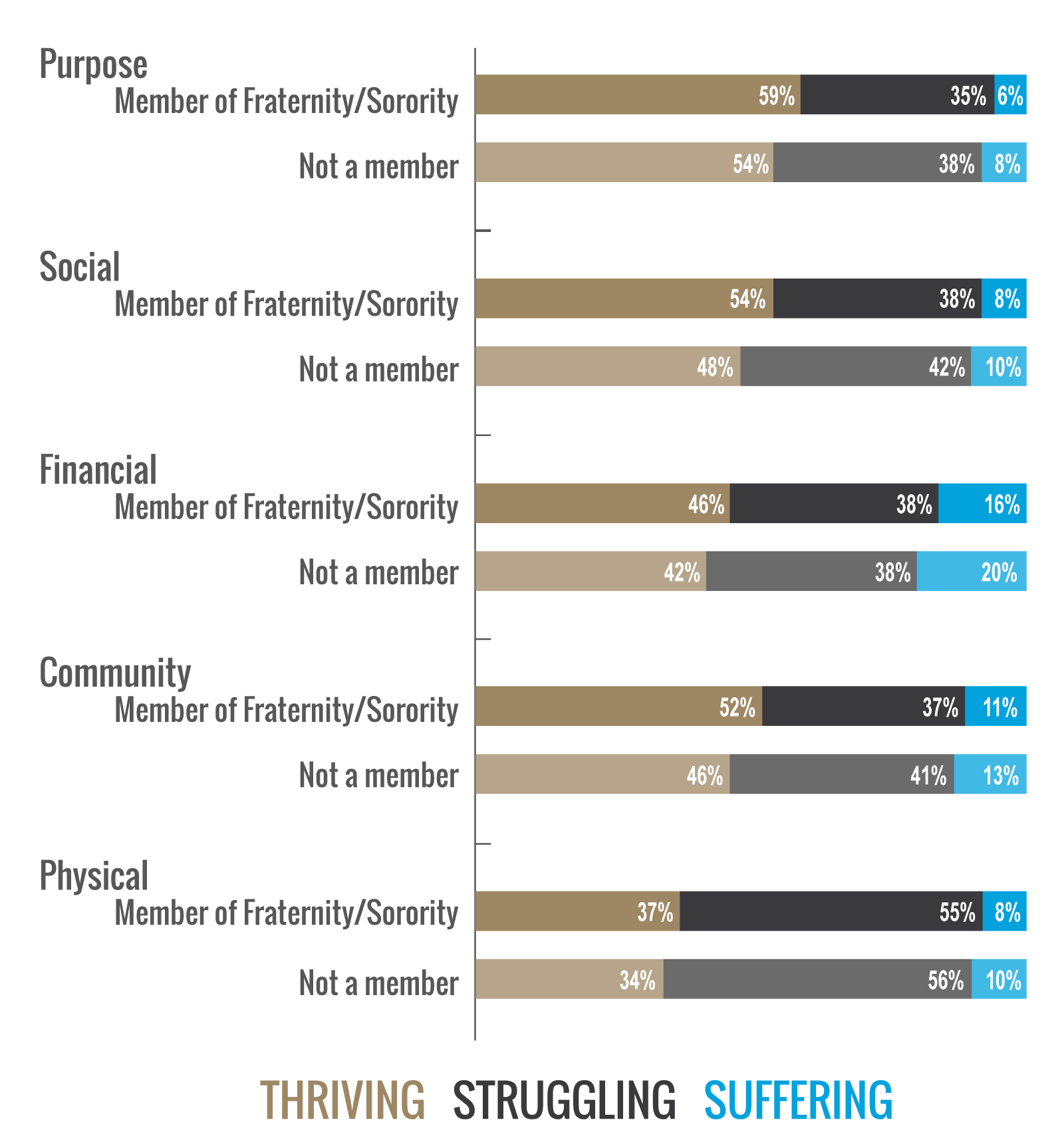 1Results for the Gallup-Purdue Index are based on online surveys conducted Feb. 4-March 7, 2014, with a random sample of 29,560 respondents with a bachelor's degree or higher, aged 18 and older, with internet access, living in all 50 U.S. states and the District of Columbia. This included 5,137 fraternity and sorority members. The North American Interfraternity Conference (NIC) and National Panhellenic Conference (NPC) partnered with Gallup for this first-of-its-kind study.