The Passing of Executive Director Brother David R. Wolf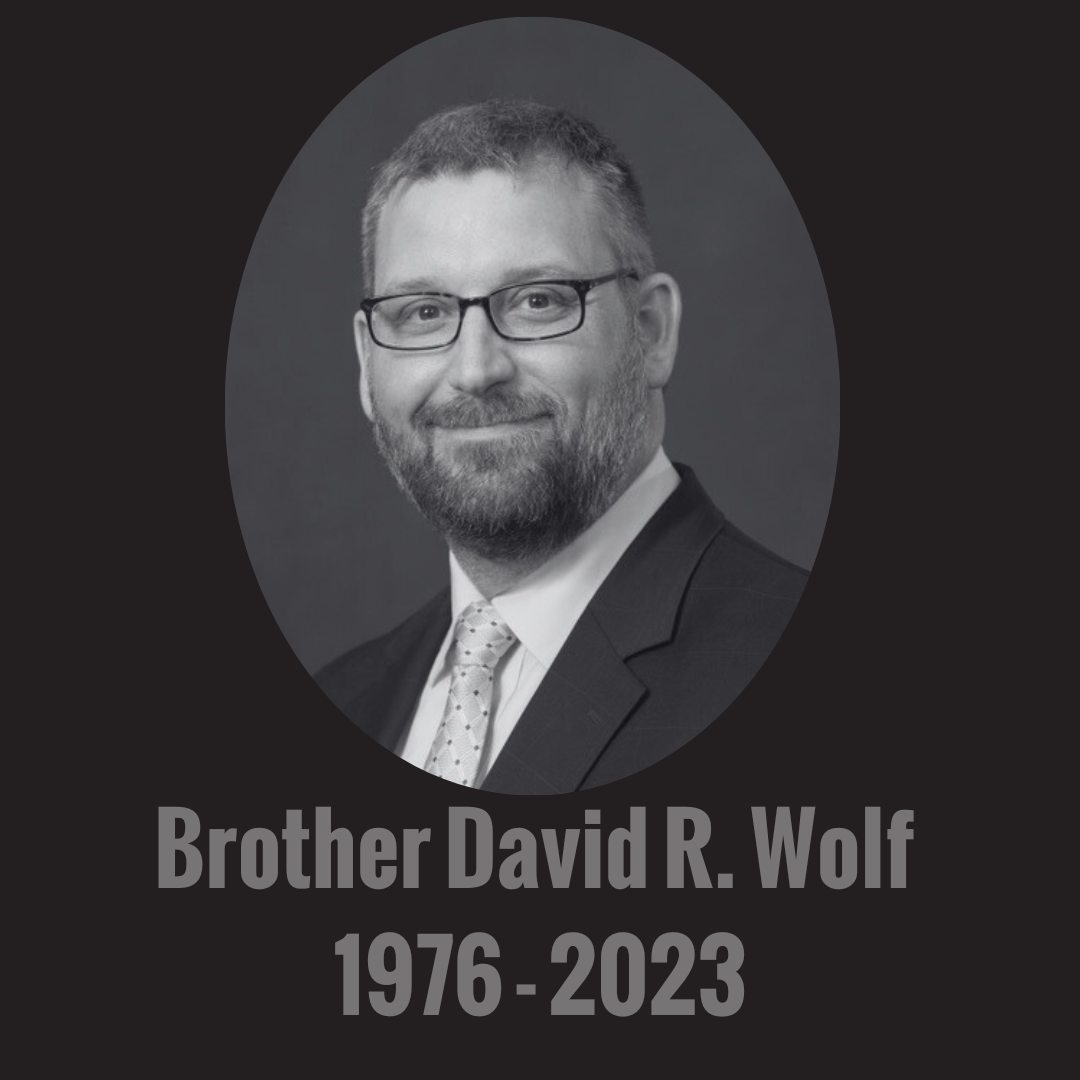 Obituary
It is with great sadness that we announce the death of David R. Wolf (Carmel, Indiana; formerly of Hubertus, Wisconsin), who passed away on May 2, 2023, at the age of 47, leaving to mourn family and friends.

Dave graduated in the class of 1994 from Hartford Union High School and went on to pursue undergraduate Economics and History degrees at the University of Wisconsin - Madison in 1999 as well as a Master of Business Administration (MBA) in 2003.

An avid Badger fan, golfer, and a brother in the Phi Kappa Sigma fraternity since the fall of 1994, he held various leadership positions to include a term as Alpha Theta Chapter President and a role as alumni Chapter Advisor. Dave most recently served as the Executive Director of the Phi Kappa Sigma International Fraternity in Carmel, Indiana where he served until his death.

Showing his commitment to the UW-Madison campus community, Dave founded the Key and Scepter Society; a non-profit organization that provides opportunities for meaningful personal development to complement academic growth, through professional seminars, grants, and scholarships.

An avid traveler, his adventurous spirit led him throughout the United States, Europe, and Asia. One summer he set out on his own with a backpack completing a trek of over 950 miles on the Pacific Crest Trail. His love of history led him to various well-known and obscure locations, sites, and monuments throughout the world.

The last few months of his life were spent researching travel plans for the summer of 2023. He was set to cover over 25 destinations of interest, from the terra-cotta warriors in China to the engineering marvel of the Panama Canal, his destinations were diverse and far flung around the globe.

He took pride in saving up enough frequent flyer miles and rewards points that the entire 3-month trip would cost him about a hundred bucks. But that was Dave, he never bought anything that wasn't on a double clearance closeout sale. Only then, on occasion, he would buy 2 with a coupon.

Fiercely independent, Dave rarely asked anyone for help but was always available to help those around him. Dave will be remembered for his laughter, happiness, and optimism.

David was predeceased by his father William S., his mother Susan J., and his brother Joseph J. He is survived by his brothers, William G. (Julie), and Robert J. (Jeannine); his nephews and niece William D., Lindsey (Andrew) Zignego and Nicholas; and his great nieces and nephews Emma, Caleb, Damian, Owen, Adalynn, and Eva Zignego; he is further survived by other relatives and many friends.

A private family memorial service and interment will be held at St Boniface Catholic Church, Germantown, WI.

A celebration of Dave's life is scheduled for June 3rd in Madison, WI. More information about this celebration can be found at: www.pks.org/brotherwolf.php

In lieu of flowers, memorials may be made to the David R. Wolf Memorial Scholarship at: give.pks.org/BrotherWolf

Celebration of Life
David's life will be honored through a remembrance and celebration on Saturday, June 3. We invite everyone who was impacted by his friendship and positive spirit to join us at the visitation Saturday morning from 9:00am - 11:30am at the Phi Kappa Sigma Alpha Theta chapter location, also known as The Crypt. The Crypt is located at 315 W. Washington Avenue in Madison, Wisconsin. The remembrance will include photo boards, slideshow, time to share with one another, and a short ceremony to commemorate his life. Please feel free to come as you are, and nothing more than business casual.

After the visitation, everyone will head to one of Dave's favorite college hangouts, the Kollege Klub located at 529 N. Lake Street in Madison. Those who knew him in college joked that he spent more time at the KK than he did at the library. It will allow for a mixing of stories from people from all aspects of his life - a true cocktail of his life. Appetizers and tap beer will be provided as we celebrate his legacy to the campus community, local chapter, and international headquarters.

For those traveling to Madison from out of town and those who live locally, there will be a gathering on Friday night at the Essen Haus at a yet-to-be-scheduled time. From there, people are welcome to join in a pub crawl to hit up some of Dave's favorite spots. To help with planning, please RSVP at www.give.pks.org/rsvp
Downtown Madison Accommodations
Hyatt Place - 333 W Washington Ave
Double Tree - 525 W Johnson St
Hampton Inn - 440 W Johnson St

Carmel, IN (2023-05-03) Phi Kappa Sigma International Fraternity ("PKS") announced today the passing of Executive Director, Brother David R. Wolf (Brother Wolf). Brother Wolf passed away on Tuesday, May 2, 2023, in Carmel, Indiana surrounded by his family.

As of the dissemination of this press release, no further information had been received from Brother Wolf's family regarding any funeral arrangements and/or celebration of life. Please visit our website at www.pks.org/brotherwolf.php for further information as it is received from the Wolf Family. In of lieu of flowers please consider helping fund the David R. Wolf Memorial Scholarship. Funds can be donated via give.pks.org/BrotherWolf to the Mitchell Heritage Society.

The Board of Directors and Staff of Phi Kappa Sigma Fraternity, along with the greater Phi Kappa Sigma brotherhood extend our deepest condolences to Brother Wolf's family and loved ones. In respect for Brother Wolf and the International Headquarters staff, the office will be closed and reopen on Monday, May 8, 2023.

May Brother Wolf rest peacefully in Chapter Eternal.

The Executive Committee for PKS has named Brother Ryan Eisnaugle, Director of Operations to act as Interim Executive Director of Phi Kappa Sigma International Fraternity. Brother Eisnaugle will start this interim role immediately and will assume all executive leadership roles and responsibilities for the fraternity until further notice. Brother Eisnaugle can be reached via email at reisnaugle@pks.org or at (463) 200-5200.

About Phi Kappa Sigma International Fraternity
Phi Kappa Sigma (ΦΚΣ) is an international all-male college secret society and social fraternity. While nicknames differ from institution to institution, the most common nicknames for the fraternity are Skulls, Skullhouse, Phi Kap, and PKS (the first two because of the skull and crossbones on the fraternity's badge and coat of arms). Phi Kappa Sigma was founded by Dr. Samuel Brown Wylie Mitchell at the University of Pennsylvania. Mitchell recorded the initial ideas and concepts of Phi Kappa Sigma on August 16, 1850. He then began to discuss the idea with other students, first Charles Hare Hutchinson, and then Alfred Victor du Pont (son of Alfred V. du Pont), John Thorne Stone, Andrew Adams Ripka, James Bayard Hodge, and Duane Williams. The seven men formally founded the fraternity on October 19, 1850 becoming the founding fathers of Phi Kappa Sigma. Phi Kappa Sigma is a charter member of the North American Interfraternity Conference, and since 2017, is headquartered in Carmel, Indiana. Prior to that, starting with its founding in 1850, the fraternity was based out of Philadelphia, Valley Forge and Chester Springs, Pennsylvania.